The perfect balance of science, nature & biotechnology - 38 NUTRIENTS at cLINICAL DOSE
The Foundation For Great Health Is Being In Control Of Cortisol
and Regenerating Your Own Stem Cells.
Cortisol is your stress hormone. Chronic stress leads to higher levels of cortisol in your system, for a prolonged period of time which affects you mentally, physically and emotionally.
YTE® AT RECOMMENDED CLINICAL DOSE IS THE #1 WAY TO MANAGE UNBALANCED CORTISOL, THE STRESS HORMONE WHICH DESTROYS IMMUNITY 
DO YOU STRUGGLE WITH ANY OF THESE ISSUES?
INTRODUCING THE ULTIMATE HEALTH & IMMUNITY 30-DAY SYSTEM
This Doctor-recommended, Nutritionist-formulated Ultimate Health & Immunity 30-Day system is designed for professionals who expect the rejuvenation, energy, strength and vitality, calm and unshakeable positive mood that comes with ultimate health.
The 2-Part System includes 38 key nutrients unavailable anywhere else.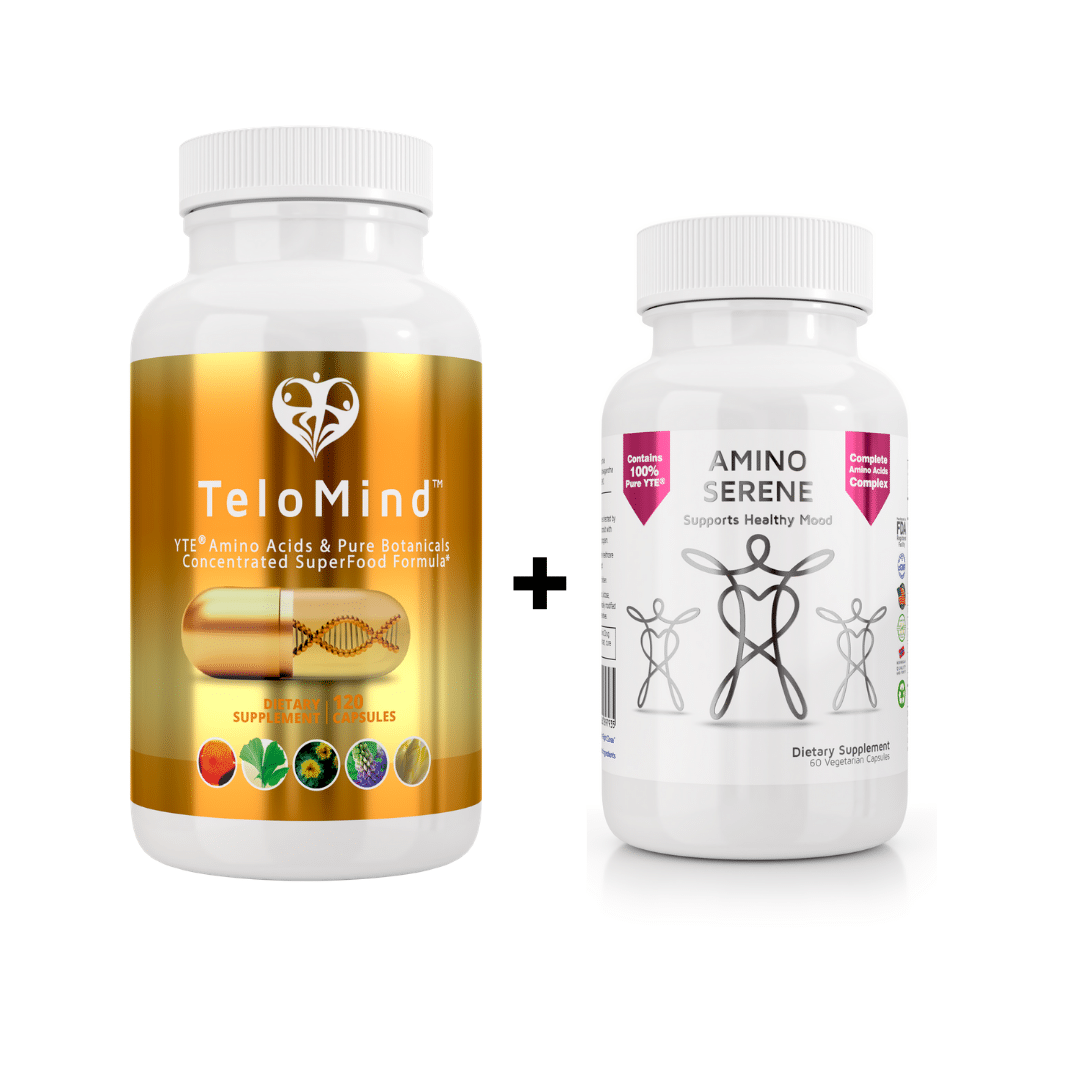 REBALANCE AND REBUILD WITH THE DUAL POWER OF OUR TWO MOST POWERFUL FORMULAS
AminoSerene Advanced Ingredients Per Serving:
600mg of genuine YTE® (amino acids from egg albumen protein) within 930mg YTE® blend including L-Citruline and Sensoril® Ashwagandha Extract (Withania somnifera, root and leaf)
Zinc Citrate, 15mg
Black Pepper Extract (Piper Nigrum, fruit 95% piperine) 10mg
Vitamin B1 Thiamin (as thiamine mononitrate) 1.5mg
Vitamin B2 Riboflavin 1.6mg
Vitamin B3 Niacin (as Niacinamide) 20mg
Vitamin B5 Pantothenic acid (as d-calcium pantothenate) 58mg
Vitamin B6 (as Pyridoxine HCI) 2mg
Vitamin B12 MecobalActive™ (Methylcobalamin) 2000mcg
Other Ingredients: organic rice flour, vegetarian capsule, organic L-Leucine.
AminoSerene Best Before Date: 10/2023
Ingredients of TeloMind Proprietary Blend (Serving Size 4 Capsules, Servings per Container 30) - recommended dose 4 capsules per day - 1 bottle = 1 month's supply
Egg albumen amino acids (YTE® 1.6g)
L-arginine hydrochloride
Gingko biloba, Rhodiola rosea, and Inulin
TeloMind Best Before Date: 11/2024
38 key nutrients at clinical dose
There is so much powerful nutrition in our supplements. We explain in detail in our Science pages and also send you full information on each nutrient and the biotechnology of YTE® with your order.