24 x AminoBoosters Supplement w/ YTE energy booster, younger cells, stress, anxiety, collagen, immune system support, clinical dose Norwegian Young Tissue Extract & botanicals
24 Bottles, Small Wholesale Pack for Medical Professionals & Health Retailers
AminoBoosters for Energy & Immunity with YTE®, Ginkgo Biloba, extra L-Argenine, and Inulin. 
Provides Energy, Reduces Stress and Anxiety, Supports Immunity and Brain Health, Regulates Cells
Supports and maintains immunity by managing levels of cortisol, the stress hormone.
Order your Wholesale Case of AminoBoosters. 24 Bottles Full of 120 Capsules each – and you SAVE because we give you wholesale prices.
(Please note, we cannot supply Wholesale quantities to Australia or New Zealand due to customs restrictions.
How can we do these reduced prices? Because it costs us less in handling and administration, so we pass those savings on to you.
Each bottle lasts for a complete month at the full dose of 4 capsules/day.
Only Health Evolution Amino Formulas have genuine YTE® at the right dose, in our proprietary, powerful, natural supporting formulas – and always good value pricing.
Remember, the Ginkgo Biloba in AminoBoosters and TeloMind is not suitable for people using blood thinning (anticoagulant) or epilepsy medication, when pregnant, breastfeeding or for children. If that's you, look at AminoB12 instead.
AminoBoosters contain genuine pure YTE® at therapeutic clinical dose and within our proprietary supporting formulas. We are talking about highly absorbable bioavailable sources of the 23 most required amino acids by the human body.
Don't risk using a formula with dangerous or unethical ingredients. The human body is comprised of approximately 20% protein and Amino Acids are the basic building blocks of all proteins in the body so don't waste any more time and money on overpriced alternatives which don't contain genuine YTE® at the right dose.
_______________
_______________
Only the Health Evolution P.L.A.N. – Pure Live Active Nutrition – formulas have genuine YTE® at the right dose in our proprietary, powerful, natural supporting formulas – and always honest pricing.
All orders are of course covered by our famous Worldwide 30 Days Triple Guarantee.
What is YTE®?
YTE® is a patented food supplement ingredient developed and patented by the Norwegian government, with two novel mechanisms of action:
i) modulating cortisol, the stress hormone, to balance levels of cortisol and so support and maintain immunity, rejuvenation, energy, vitality, strength, and mental health
ii) regenerating stem cells, to help with growth and repair in the body tissues and organs. Stem cells have the potential to develop into 'specialised' cell types, such as blood cells, muscle cells, nerve cells, which have been lost through illness or injury.
The Story of YTE®?
YTE® was first discovered back in 1929 by a legendary Canadian Doctor, Dr John Ralston Davidson. He was observing fertilised incubated hen eggs and identiied the precise moment at which the nutrients of life are concentrated, but prior to the formation of a viable organism. That means no animals are harmed in the production of YTE®.
After nine days, the incubation is halted and the contents of the egg harvested, capturing and preserving the delicate nutritional components, uniquely producing th Pure Live Active Nutrition that is known as YTE®.
YTE® is composed of 80 to 85 percent peptides and glycoproteins, along with Fibroblast Growth Factor, vitamins and minerals: everything needed for live in one singe ingredient. These compounds are readily recognized and used by the human body for nourishment and support of vital functions.
Best Value YTE® On The Market

YTE® is a well documented and studied food supplement ingredient, appearing in several published and peer-reviewed studies.
AminoBoosters contain full strength pure YTE® powder at the recommended clinical dose of 400mg per capsule, 1600mg per daily dose of 4 capsules.
This is a rare natural ingredient which is expensive to produce. Other companies have used the story of YTE® and not included the full clinical dose.
As a result of our commitment to providing this genuine ingredient at the correct clinical dose, always providing formulas which are outstanding value for money, Health Evolution has been awarded exclusivity and is now the only company providing genuine YTE®.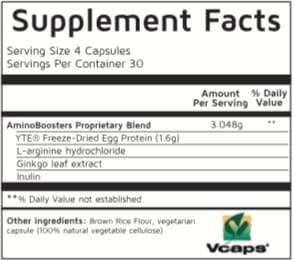 Ingredients of AminoBoosters Proprietary Blend 3.048g (Serving Size 4 Capsules, Servings per Container 30) – recommended dose 4 capsules per day – 1 bottle = 1 month's supply
Egg albumen amino acids (YTE 1.6g)
L-arginine hydrochloride
Gingko Leaf extract, and Inulin
Click on the big BUY IT NOW button at the top of the page